I do not know what has come over me lately, but here is another card I have made.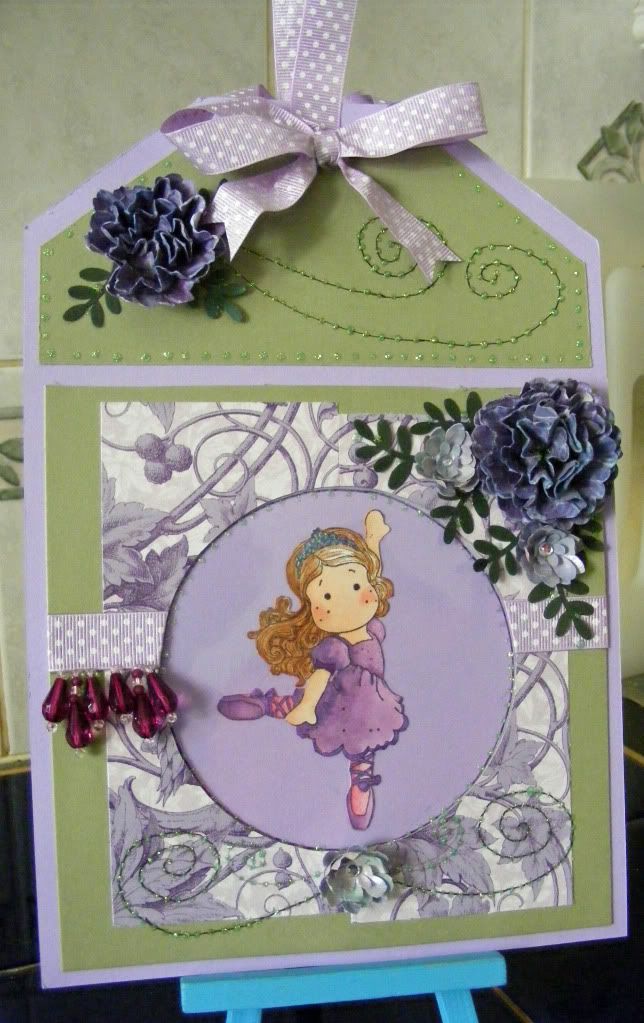 I have been wanting to try a large tag for sometime and after looking at the magnolia down under challenge from a few weeks ago on swirls, had an idea of using swirls to create a snow globe. I brought a pad of papermania in my favourite colour - lilac, so decided to down a summery globe instead (test run for Christmas cards).
I cut a large tag shape from a piece of lilac card. I then matted two pieces of the patterned paper on to a sheet of green card and then created an aperture. I cut a circle of acetate that is larger than the aperture in the card. I added two pieces of ribbon to both sides and then on one side, I sewn some beads, that I took from a piece of beaded trim. I then stuck the acetate behind the aperture.
The image is Ballerina Tilda and I have coloured her copic's and Spica Glitter. I think she is among my favourite magnolia stamps. I cut her out and mounted her onto the lilac tag and then stuck the piece of the tag that has the aperture over the top of her onto the lilac card.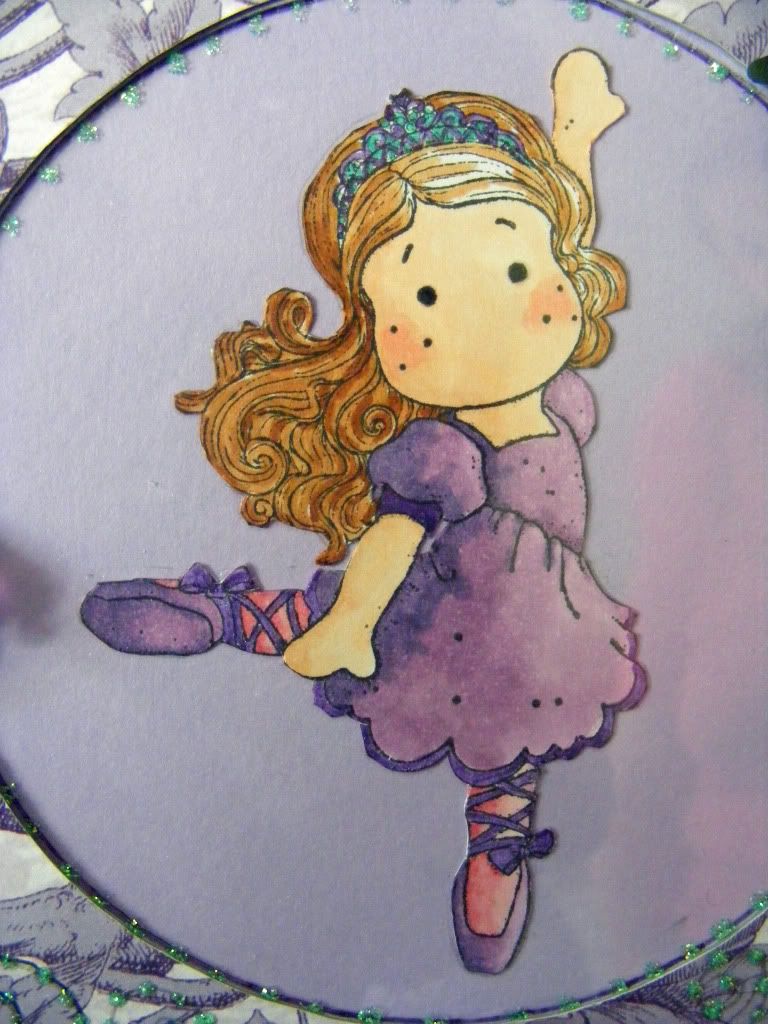 For the top of the tag, I cut another piece of green card and matted this onto the lilac card.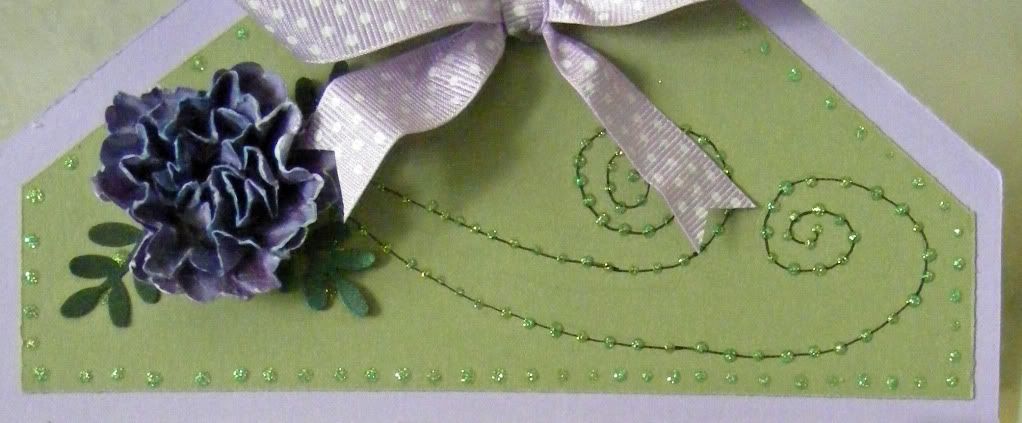 Now for the swirls. I decided to create a template to use. I drew a swirl on to a piece of card and then picked out the design. I layered this over my tag, where I wanted swirls and then used a pencil to transfer the design. I then used my copic fine maker to connect the dots together to form the swirls. I then used stickles glitz them up. I also added stickles around the edge of the aperture.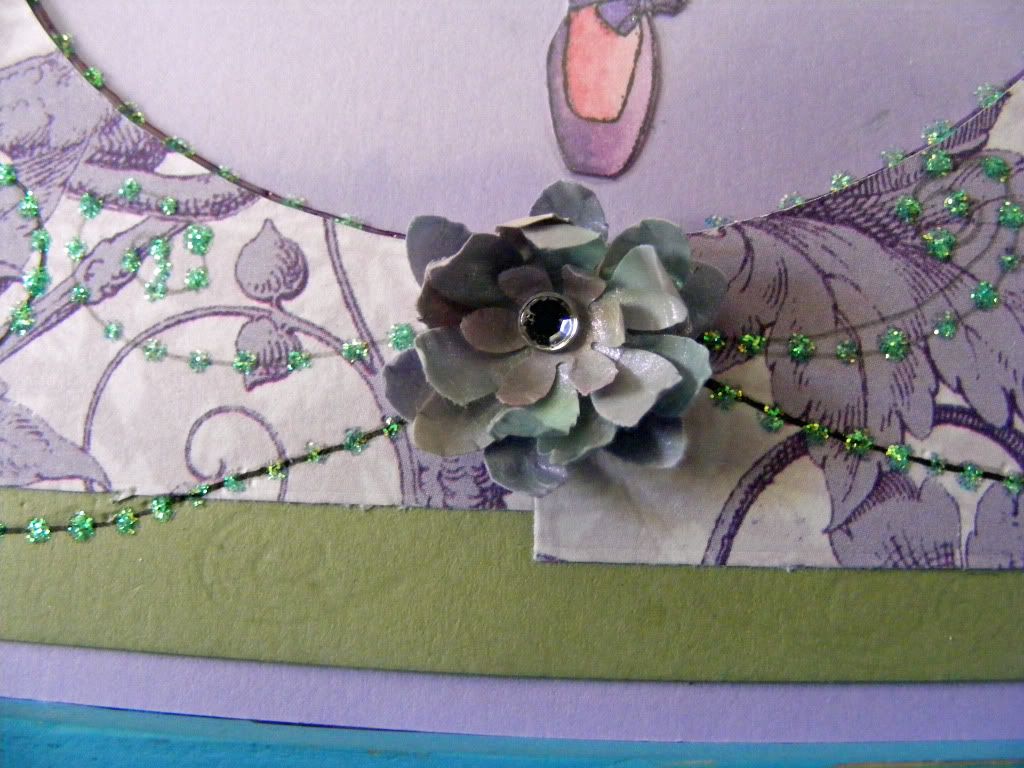 I created all the flowers used on the tag, from punches.
I distressed the edges of the large flowers and used chalk to add some extra colour. I added a jewel to the centre of the smaller flowers. The leaves are also from punches.
I have entered this in the following challenges: