It is challenge time at Crafty Cardmakers and the challenge this time is to select a previous challenge on another blog, that you previously ran a mile from, complete it and say why you ran the first time.
Here is my card.
I decided to look at two challenges that I had not done for this one.
• Magnolia down under's,
Fake or Real stitches challenge
• Just Magnolia -
Paper Pleating challenge
.
The reason that I did not do these challenges was that I felt that I did not have enough time to give them Justice but also I had no idea what so ever to do for them. I also decided to have a go at a hidden message card, as I had been wanting to do one for a while.
For this card, I used the following stamps:
• Magnolia: Tilda with Spring Bundle
• Stampin up: Thank you
Papers used:
• Papermania – Signature Blueberry Hill – All patterned paper
• The Papermill – Blue Card
Ribbon and Flowers from own collection
Tilda was coloured with copic markers and Spica glitter pens. Then cut out using a Nestability Scalloped Oval. Then, I used three shades of pink chalks to distress the edge of the oval.
For the hidden message topper – I cut three Nestability labels – 2 from blue card and the other from patterned card. I added lace to the edge of one of the blue card labels. I cut a strip of the same blue card and folded this in half to create a hinge. I stuck this to the back of the lace edged label. Then I struck the other side of the hinge to the back of the patterned paper.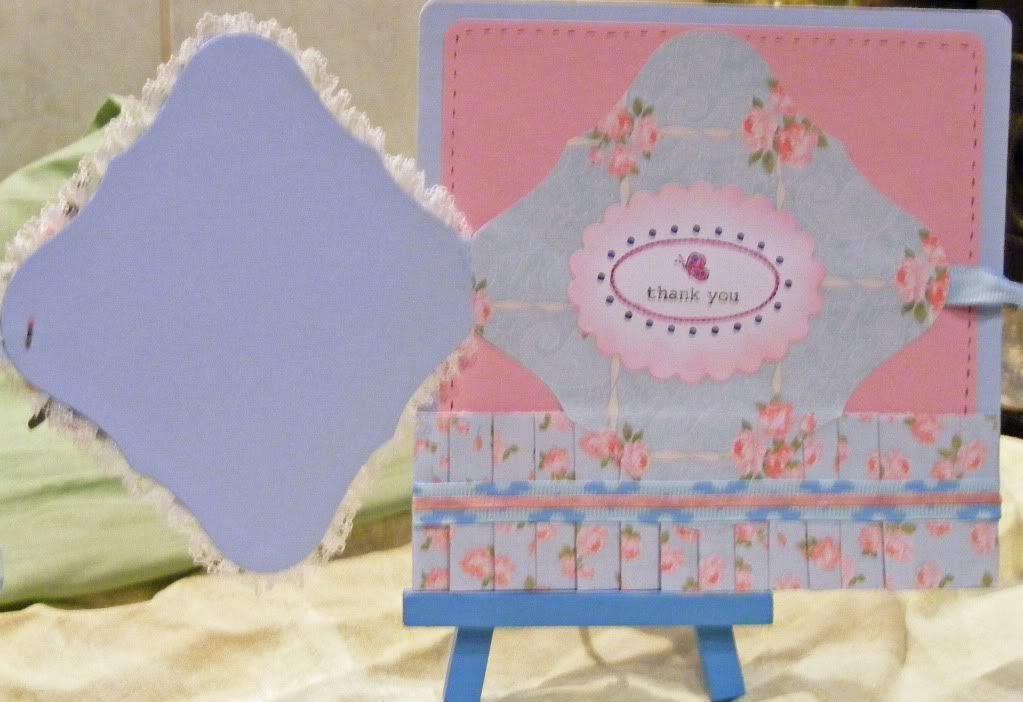 I stamped a thank you and then cut out with a smaller scalloped Oval and used the same chalks to distress the edge. I added some colour to the image with Spica pens. This was then stuck inside the hidden message topper.
For the card base, I cut a strip about 5cm (2in) in width from a sheet of A4 Blue card. This should give you enough card, to create a 16 by 16cm (6in by 6in) card base. This I then folded in half. I round the top corners, with a punch.
I cut a square of pink card, which I rounded two top corners, with a corner punch. This I then stuck on to my card base.
I cut 2 strips of patterned paper about 5cm (2in) in width and using the
tutorial on paper pleating
, I pleated both strips. I had to pleat both strips and join them together, to make a strip long enough to fit along the bottom of my card. I stuck the pleated strip, on top of the pink card at the bottom of the card base. I then stuck a strip of blue ribbon on top of the pleated strip and then some narrow pink ribbon on top, down the middle of the blue ribbon. To match the hidden message topper.
I then stuck the hidden message topper to the card base.
I also decided to enter this card in the following challenges: